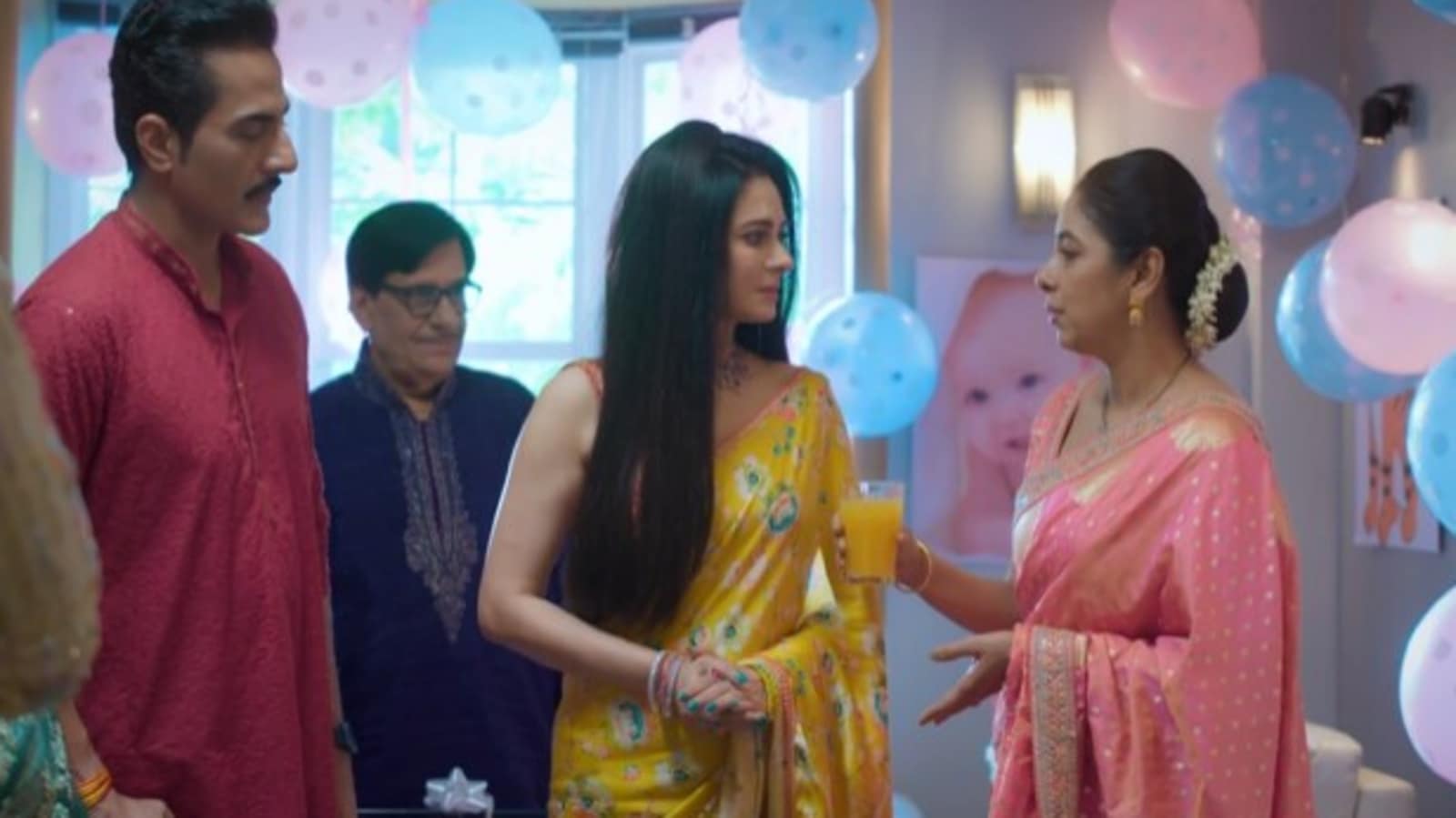 In the latest episode of Anupamaa, Vanraj and the Shah family are thrilled as they set their eyes on the new daughter in the family. Rakhi Dave, Kinjal's mother, attends the celebrations but is quite upset with Toshu for not supporting Kinjal. Anupamaa and Vanraj suspect something is wrong with Rakhi as she is still upset despite meeting her granddaughter and Kinjal. Toshu receives the good news from Vanraj via a phone call and he communicates with "someone else" in the car. Anupamaa tries to have a one on one talk with Rakhi to understand her complaint against Toshu until Pakhi interrupts her. She calls Rakhi to meet her daughter. Anuj is found on the ground by Barkha, Ankush and Adhik. Keep reading this article to learn more about the show. Also read: Anupamaa and Vanraj become grandparents
Kinjal and the family welcome a new girl into the world.
Vanraj cannot hold back his happiness as he tells Toshu on the phone that he is a father and that Vanraj has become a grandpa himself. Anupamaa and Leela are pampering Kinjal and the baby while reciting a poem when they are interrupted by the arrival of Rakhi Dave. After inquiring about Toshu's whereabouts, Rakhi learns that he had an important business assignment to attend to in Mumbai. Rakhi is quite upset with Toshu and keeps bringing the conversation back to him among family members. Outside the hospital room, Rakhi informs Anupamaa and Vanraj that once Kinjal gets permission from the doctor to go home, she will take both her granddaughter and daughter back to their place. Anupamaa and Vanraj suspect that something is wrong with Rakhi and she must hold back her true feelings towards Toshu, who is unlike her.
Little Anu asks Anuj to take her to the hospital to meet with the family.
Anuj is constantly pressured by little Anu to take her to the hospital so she can meet the baby. Anuj, unable to control his anger, eventually grabs little Anu and sends her to her room not before GK has spoken to her to calm her nerves. Anuj then remarks that a dia (lamp) that was lit for the baby had started to dissipate and while trying to refill the oil in the lamp, accidentally fell to the ground. Seeing this, Ankush, Barkha and Adhik immediately rush to his aid and place him in his wheelchair. Initially unable to tolerate her presence, Anuj accepts her offer of help and asks her not to tell Anupamaa about the incident. Anupamaa catches Rakhi anxiously eating sweets and asks her to explain her troubles. Rakhi is unable to catch his breath or control her fear, Toshu repeatedly exclaims, just as Pakhi informs her that Kinjal is asking to see her in the room.
In the next episode, Rakhi confronts Toshu about being in a hotel room in front of Anupamaa with another woman. Anupamaa is clearly shocked to hear this revelation. Stay tuned to HT Highlights for more.
trending topics to follow