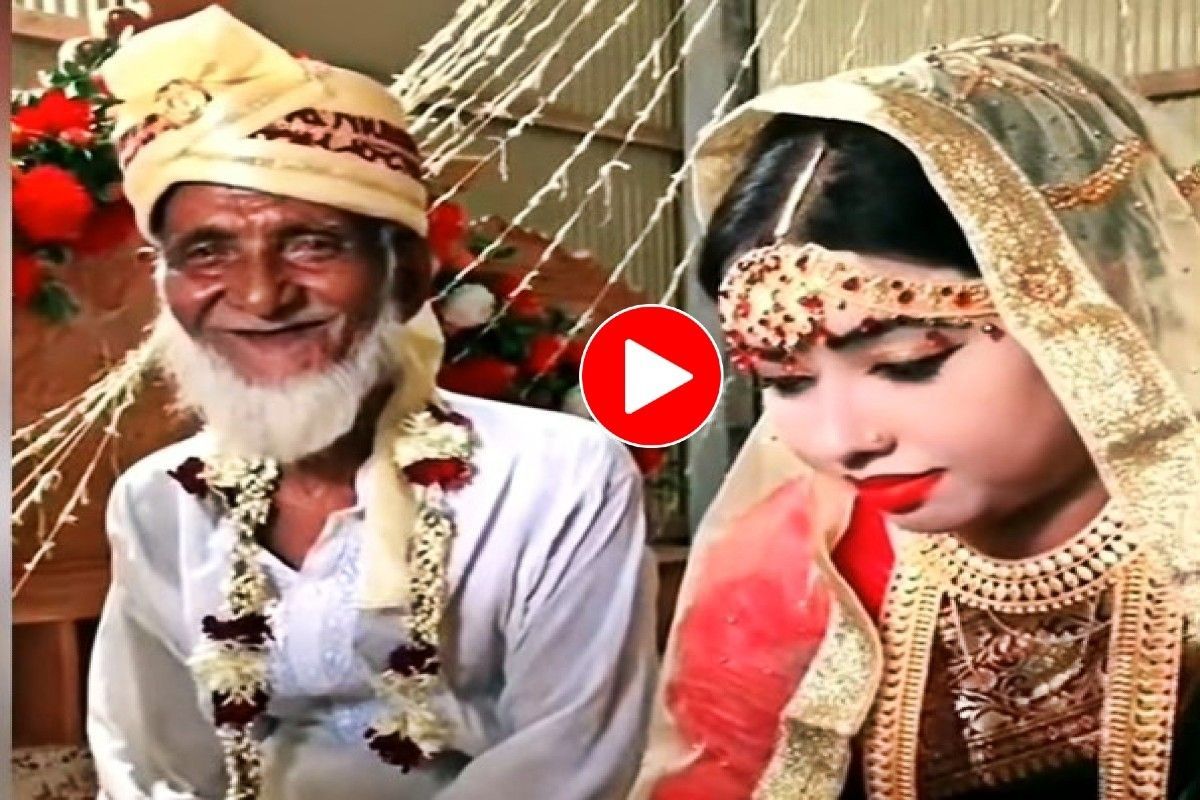 Viral Video Today: A sad video is going viral on social media where an elderly man is unable to restrain his happiness after marrying a beautiful girl. This clip has been shared by the user 'psycho_biihari' on Instagram. It has garnered over 116k views and 14k likes.
While the groom, a man who looks easily 80s or 90s, is smiling uncontrollably with a garland around his neck and a beautiful bride, who looks too young for him, is sitting beside him after their wedding. . The bride is looking shy and not excited to get married like the groom. She is wearing a red and green lehenga with a beautiful makeup look.
The viral video has netizens feeling sorry for the bride, who looks like she is now stuck in a marriage she didn't want. On the other hand, the groom is happy to have such a beautiful bride in spite of her old age. Netizens also felt bad for the single young men who are unable to find anyone while this old man got lucky.
वायरल वीडियो टुडे: सोशल मीडिया पर एक दुखद वीडियो वायरल हो रहा है जहां एक बुजुर्ग व्यक्ति एक खूबसूरत युवती से शादी करने के बाद अपनी खुशी को रोक नहीं पा रहा है। इस क्लिप को 'psycho_biihari' यूजर ने इंस्टाग्राम पर शेयर किया है। इसे 116k से अधिक बार देखा गया है और 14k लाइक्स मिले हैं।
जबकि दूल्हा, एक आदमी जो आसानी से 80 या 90 के दशक में दिखता है, अपने गले में वरमाला और एक सुंदर दुल्हन के साथ बेकाबू होकर मुस्कुरा रहा है, जो उसके लिए बहुत छोटा लग रहा है, उनके विवाह के बाद उसके पास बैठा है। दुल्हन शर्मीली दिख रही है और दूल्हे की तरह शादी करने के लिए उत्साहित नहीं है। उन्होंने खूबसूरत मेकअप लुक के साथ लाल और हरे रंग का लहंगा पहना है।
वायरल वीडियो में नेटिज़न्स दुल्हन के लिए खेद महसूस कर रहे हैं, जो ऐसा लग रहा है कि वह अब एक ऐसी शादी में फंस गई है जो वह नहीं चाहती थी। दूसरी ओर, दूल्हा इतनी खूबसूरत दुल्हन को अपने बुढ़ापे के बावजूद पाकर खुश है। नेटिज़न्स को उन एकल युवकों के लिए भी बुरा लगा जो किसी को नहीं ढूंढ पा रहे हैं जबकि यह बूढ़ा भाग्यशाली हो गया।