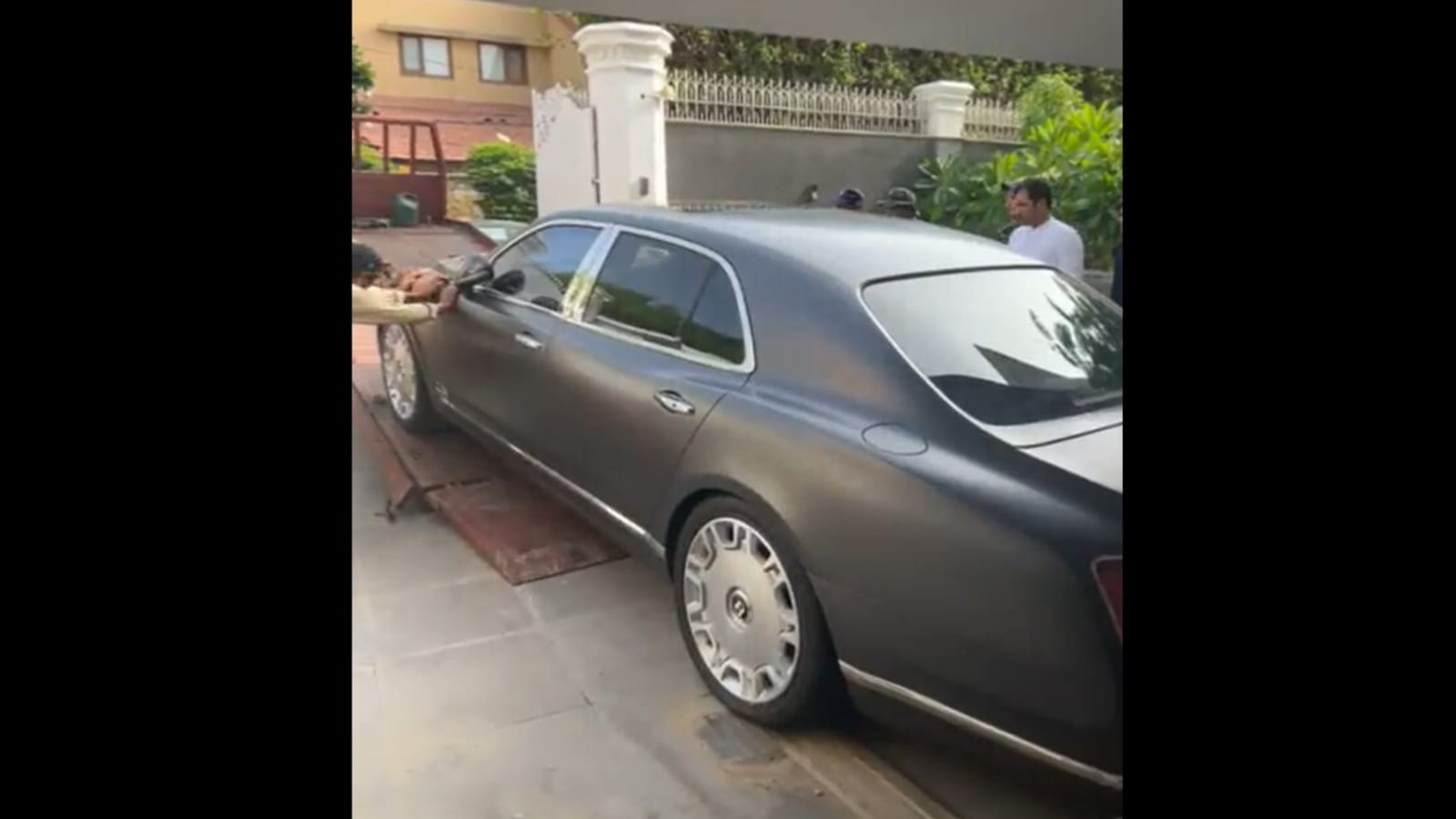 Written by Shubhangi Gupta | Edited by Sohini GoswamiNew Delhi
The Bentley Mulsanne luxury car believed to have been stolen in London UK has been recovered during a raid by Customs in Karachi, Pakistan.
A local media report said the Collectorate of Customs Enforcement (CCE) raids took place based on information provided by the British intelligence agency.
The British intelligence agency reportedly provided information to CCE, Karachi on a gray Bentley Mulsanne – V8 automatic, VIN number SCBBA63Y7FC001375, engine number CKB304693 – which was parked at DHA, Karachi, a Pakistani newspaper reported. Business recorder.
A physical search was carried out after strict surveillance at the scene to verify the veracity of the information, the report added. The high-end car was found parked under the porch of a house.
The department has taken the owner of the vehicle into custody and a new investigation into the matter is ongoing.
During questioning, the owner reportedly said the car was sold to him by another person who also agreed to clear the documentation process with the relevant authorities.
A video tweeted by a user showed a gorgeous ash gray Bentley parked on the porch of a house being pushed by a few people in what appeared to be an attempt to move the car forward.
Prime Minister Pak Shehbaz Sharif to audit flood relief fund to ensure 'transparency'

Pakistani Prime Minister Shehbaz Sharif announced on Saturday that the Prime Minister's Relief Fund would be audited by the Accountant General of Revenue of Pakistan (AGPR) and a private auditing firm to ensure transparency. He also announced that audit reports will be made public, Geo News reported. Shehbaz set up a relief fund last month to help those affected by flooding and called on the public to contribute, Geo News reported.

More than a third of Pakistan under water, the overflowing Indus creates a long lake

More than a third of Pakistan is now under water due to what the UN chief called "the monsoon on steroids". Satellite images shared by the European Space Agency show the scale of the flooding which has claimed more than 1,100 lives and affected more than 33 million people in Pakistan. Pakistan is facing a double food and health crisis due to unprecedented floods.

US Approves Potential $1.1 Billion Arms Sale to Taiwan, Pentagon Says

The US State Department has approved a potential $1.1 billion sale of military equipment to Taiwan, including 60 anti-ship missiles and 100 air-to-air missiles, the Pentagon announced on Friday. The package was announced following China's aggressive military exercises around Taiwan following a visit to the island last month by Speaker of the US House of Representatives Nancy Pelosi, the top US official in been to Taipei for years.

Donald Trump's search inventory reveals new details about FBI seizure

Along with highly classified government documents, FBI agents who searched former President Donald Trump's estate in Florida found dozens of empty folders marked classified but with nothing inside and no explanation of what might have been. found there, according to a more detailed inventory of the seized material made public on Friday. Officers also found more than 10,000 other government documents held by Trump without marked classification.

Explosion at Canadian refinery in Newfoundland, at least six injured

An explosion at a refinery in Newfoundland, Canada, on Friday left at least six people injured, one in serious condition, federal police said. Read: The park will be named after Gita in Canada According to public broadcaster CBC, the former North Atlantic refinery has been renamed Braya Renewable Fuels after US private equity firm Cresta Fund Management bought a majority stake in it 'last year.