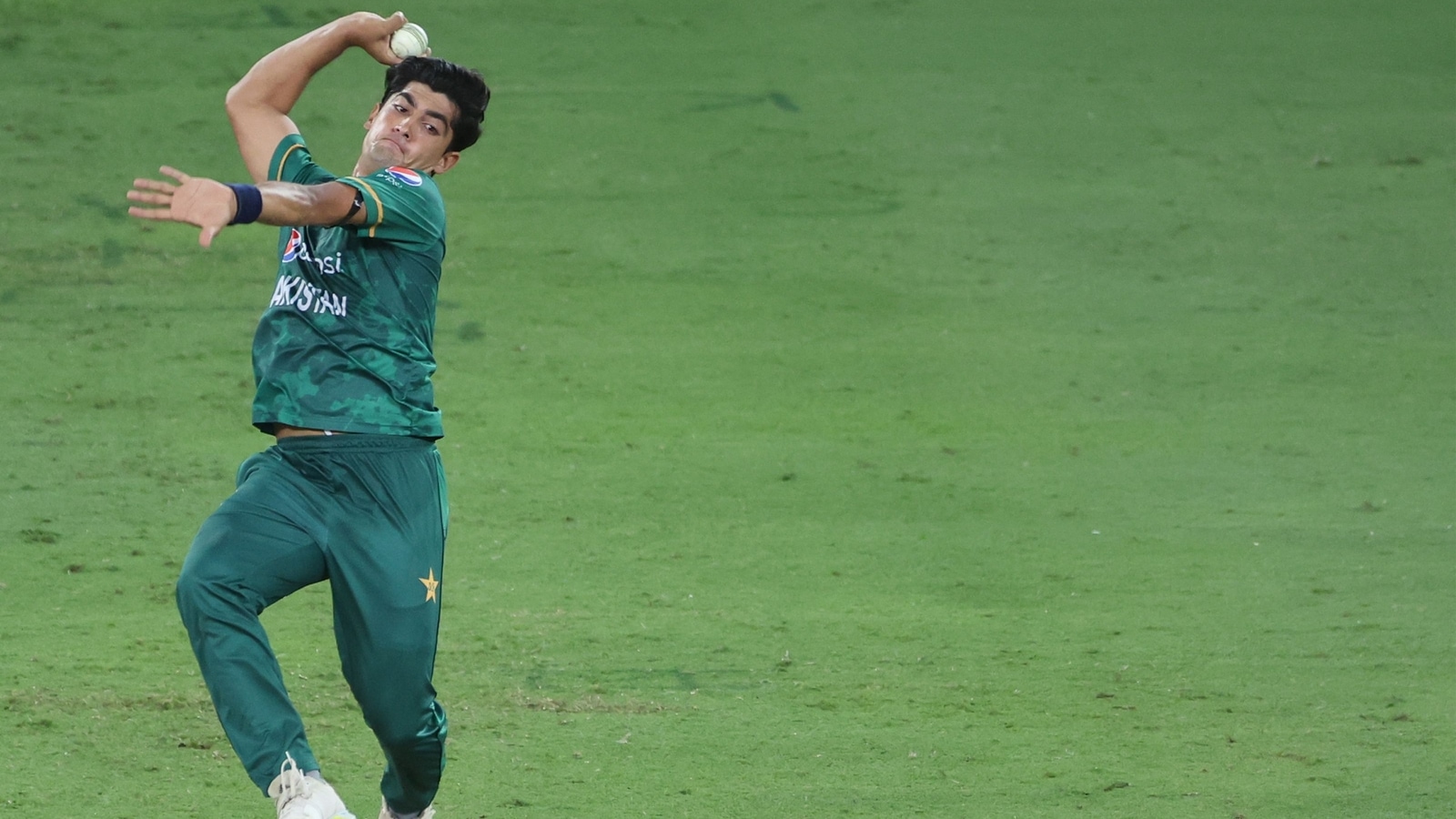 "Aisa kuch nahi hai ke cramps agar usko nahi aatey toh hum haar jaate. (It's not like we would have lost if he didn't get cramps). A day after beating Pakistan, Ravindra Jadeja tried to be pragmatic about Naseem Shah's cramps. He was right, of course. Hardik Pandya's 17-ball 33 was the reason India didn't crack under the pressure. But Jadeja also had the advantage of hindsight. As long as Shah was in the equation, it had come considerably closer.
The ball that KL Rahul dragged on his stumps in the chase's second delivery was a peach, but the one that got Suryakumar Yadav was a full-fledged head-turner, straight up and cannonading at 142 mph. India was 89/4, and a teenager playing just his first T20I was causing predictable havoc until he ran away from his run clutching his leg.
This too was not unforeseeable. In just three years of international cricket, Shah's career has seen more twists and turns than a bestseller. Shah was all 16 when he made his Brisbane debut a day after his mother died, and fired David Warner for his first Test wicket, only to be called a no-ball. Warner turned out to be its first test wicket, thanks to a bouncer brute. During the following summer at home, Shah became the second-youngest fast bowler to pass a five-year test and the youngest to score a hat-trick.
He had three tests when Shah was named in Pakistan's U-19 World Cup squad, only to be pulled two weeks before the tournament because Pakistan head coach Misbah-ul-Haq and Waqar Younis – their bowling coach – were not in favor. to release him for age group cricket. Two balls after winning his hat-trick, Shah walked off the pitch complaining of chest pain. He did not return to bowling. He has since suffered a sprained ankle, back injury, knee injury and shoulder injury which cut short a stint in Gloucestershire County ahead of the latest Asian Cup scare. These are all telltale signs of a teenage body that's still not quite up to speed with the rigors of international cricket.
But there is no doubting the bowling intellect. Or the curvature of the back behind every ball. Or the beautiful measured stroke with effortless tracking that disguises those incoming balls so well. Rahul couldn't read it on Sunday. Neither did Hong Kong's Babar Hayat on Friday, playing the full length of a ball that hit his stump. For Nizakat Khan, Shah was long, long and long until he finally threw a fuller ball. In an effort to throw him over the infield, Khan could only chip him to cover.
These are not easy deliveries on lifeless terrains. Shah however brings with him a wealth of experience with action honed on slow pitches for years. Want to reverse swing? Bring Naseem. Try cutters? Ask Naseem to show it. Not being born into the privilege of training with new balls also has its advantage. That's why against Australia in Lahore earlier this year, even Shaheen Shah Afridi looked to Shah for clues to work with the old ball. Afridi may be more of a deck hitting bowler which is why Shah's role expanded during Pakistan's home series as no one could reverse the ball as early as him. It's a thankless job, playing fast on unforgiving pitches with an injury-prone body. Even before the Hong Kong match, Shah was seen bowling with his leg taped. Rarely do 19-year-olds play more Test cricket than the white ball version. But now that he understands, expect Shah to go the full distance.
Enjoy unlimited digital access with HT Premium
Subscribe now to continue reading